Our Blog
 / Best Practices for Achieving a Sustainable Residential EV Charging Ecosystem
EV Infrastructure
March 28, 2023
Best Practices for Achieving a Sustainable Residential EV Charging Ecosystem
Raghav Bharadwaj
Head Strategy and Leadership
---
Studies show 80-90% of EV owners prefer to charge their vehicles at home. This trend presents a unique opportunity for resident welfare associations (RWAs) and housing societies to provide convenient EV charging points for their residents while creating additional revenue streams.
But setting up a residential EV charging point can be difficult, with barriers like space constraints, lack of awareness and support, and grid compatibility. And even though governments provide incentives for RWAs, like tax credits for setting up EV charging stations and subsidies on power tariffs, they often aren't sufficient to help RWAs overcome these barriers.
In part 1 of our series on residential EV charging, we look at the best practices for implementing residential EV charging ecosystems. These practices will help RWAs and residential community members progress in the transition to EV charging. Specifically, we answer three questions:
What are the existing barriers to implementing residential EV charging ecosystems?
How can RWAs adopt best practices for implementing residential EV charging?
What are the best practices for installing residential EV charging stations?
Understanding the Barriers in Implementing Residential EV Charging Ecosystems
India's growing adoption of EVs poses an opportunity for RWAs in setting up EV charging infrastructure. But this won't be without its set of challenges. In addition to India's growing power demands, bureaucratic limitations, and limited funding, RWAs have to navigate installation complexity, a lack of standardization in charging, and the challenge of finding suitable charging locations. As the demand for EV charging infrastructure grows, understanding these barriers is crucial in finding solutions to overcome them.
1. Grid Limitations
India has been steadily increasing the capacity of its national electric grid's capacity and is adding more non-fuel sources to meet the growing demands. In 2023, power demands are expected to meet 1650.59 billion units, which is set to double by 2030.
The mismatch between supply and demand can impact the regular supply of power to charging stations. Fluctuations may even damage the underlying charging components. Additionally, if a large amount of power is directed toward an apartment complex's EV charging stations, residents will have less power available for use. This makes residents more resistant to setting up residential EV charging stations.
According to India's Ministry of Housing and Urban Affairs (MOHUA), buildings must also apply for additional power load, equal to 1.25 times the power of all planned residential EV charging stations. Given the bureaucratic limitations, this likely won't be straightforward.
2. Installation Costs
Installation costs associated with charging infrastructure may be a barrier for RWAs. RWAs are bound by The Societies Registration Act of 1860, which lays down guidelines for their operations.
Typically, RWAs need majority support to undertake major expenses, which means they can't get approval to install EV charging stations unless a majority of residents are EV owners.
RWAs also collect an average of Rs 1 to Rs 3 per square foot from residents, and if the amount collected exceeds Rs 7,500 per residential apartment, the RWA has to pay an 18% GST tax. As a result, RWAs have limited funds for EV installations.
The table below shows the likely costs depending on the charging infrastructure needed. RWAs might find it difficult to persuade residents to take on these additional costs, especially since many residents view EV charging stations as a dead investment.
3. Installation Complexity
RWAs often face power-related issues that translate to outages within the community. Adding EV chargers could compound the problem, especially if the RWA does not have an adequate power load to meet charging demands.
Choosing appropriate EV hardware that matches residents' power and charging requirements could be time-consuming for resident volunteers serving as RWA office bearers.
Finding professional electricians to ensure the EV charging stations' safety and reliability can also pose a challenge, given the limited technical knowledge and expertise in EV charging.
4. Lack of Standardization in Charging
Different EVs require different types of EV chargers, all of which may be incompatible with one another. The table below shows the different types of charging options available today.
Setting up different chargers to accommodate these incompatibilities can add to the installation and maintenance costs. This makes it difficult for RWAs to accommodate the needs of every EV owner. The different charging points may also add to the power load, further increasing resistance from residents.
5. Lack of Suitable Locations
Government mandates require RWAs to allocate at least 20% of their total parking space for EV charging. Charging areas must also be visible and accessible to drivers. In addition, the space must be close to the electrical room to avoid wires running through parking lots. The parking bays must also have 4G/5G connectivity to help EV drivers connect to their mobile apps.
But not all housing societies have the mandated parking space availability, making it difficult to set up specific areas for EV charging. And because EV OSs are a critical part of electric mobility, it's becoming difficult to forsake connectivity requirements in residential parking spots.
To overcome barriers in the residential EV charging ecosystem, stakeholders can follow the practices below to promote collaboration and awareness.
3 Best Practices for Breaking Barriers in Residential EV Charging Ecosystems
Despite the barriers RWAs face in their endeavor to implement residential charging ecosystems, they can leverage a few best practices that will help them get their ecosystems up and running. These practices involve creating awareness campaigns, leveraging policies and incentives, and collaborating with key stakeholders.
1. Create Awareness Campaigns
As EV charging stations are a relatively new technology, misconceptions impede RWAs and residents from fully embracing them. RWAs can utilize campaigns set up by governments and private companies that debunk misinformation about EVs.
RWAs should also inform residents about the benefits of green mobility and EV charging through workshops, interactions, and awareness campaigns in housing societies. This will help garner greater support for installing EV charging stations within their communities.
2. Leverage Government Policies and Incentives
Besides the impetus from the Indian government, many state and local administrations, like the Delhi government, have developed specific EV policies to boost residential EV charging ecosystems. RWAs will need to stay on top of these changing guidelines to know how best to use the incentives to set up EV charging stations. Doing so will help them reduce some of the cost-associated burdens and get residents on board faster.
Government websites like NITI Aayog and Power Ministry have updated information on power tariffs. Some state governments also have specific EV policies that provide this information. RWAs can also check with the local Electricity Board superintendent for updated rates.
3. Enter into Collaborative Partnerships
Partnering with EV manufacturers, charging infrastructure providers, and utilities can make residential EV charging infrastructure more reliable. For example, RWAs can work with companies like NTPC and Power Grid to ensure they have sufficient electric capacity to support charging stations.
Likewise, housing societies can work with EV charging providers. Together, they can develop smart charging solutions that optimize charging times and reduce strain on the electrical grid. OEMs can also offer RWAs customized features that help manage power consumption and profitability. These collaborations can help reduce the load of setting up residential EV charging infrastructure.
To put the strategies above into action, we'll examine some installation best practices for residential EV charging stations. These practices will improve the accessibility and efficiency of the residential EV charging infrastructure.
5 Best Practices for Installing Residential EV Charging Stations
Considering the installation best practices for residential EV charging stations is key to avoiding obstacles in the process. Following these best practices will also make the residential EV charging stations safe for residents, accessible for EV drivers, and profitable for housing societies.
Step 1: Assess the Community's Power Needs
Understanding power needs is a critical first step for RWAs to avoid overspending on charging infrastructure. To determine charging potential, RWAs should first evaluate the following key elements:
Current electricity load
Total sanctioned load for the housing society
Local transformer capacity
Peak demand during summer
With this information, RWAs can decide how many EV chargers the community can support. If less than 5% of the community have EVs, a universal 3.3kW charger should do. On the other hand, if 5-25% of the community have EVs, it will need 7kW chargers. And if the community has over 25%, it would need a smart charger in every parking space. Figuring out this number will ensure RWAs opt for the most profitable solutions for their needs.
Step 2: Determine the Scope of Work
Based on the assessment in step 1, RWAs may need to apply to the local power station and request greater electrical capacity. RWAs should also consider the EV charging providers and their costs. Below are some additional steps RWAs can take:
Contact the local DISCOM to come under the government's single window process for selecting residential EV providers
Reach out to CPOs directly to handle the process from installation to maintenance
Research which CPOs will offer the most suitable charging points at the lowest cost, without compromising safety
Determining this action plan early on in the process will help ensure the installation process remains hassle-free. Doing so will also help RWAs ensure their residential EV charging ecosystem is safe and accessible for all residents and EV drivers in their community.
Step 3: Select a Suitable Location
Next, RWAs should consider the available space and assess if their community can meet the requirements outlined by the MOHUA guidelines. If it doesn't, RWAs can opt for the below workarounds:
Hold meetings with residents to evaluate the possibility of converting unused space into EV charging spots
Search for space-friendly charging stations and smart residential EV charging points that don't take up too much space
Selecting a location for charging points is key to ensuring everyone has equitable access to charge their EVs. This will also yield the most profit and ensure all residents are satisfied with the parking arrangements.
Step 4: Estimate the Costs
RWAs should evaluate the installation costs for a single residential EV charger. Doing so will allow them to determine how many charging points are within their budget. They should also consider any additional costs, like:
Electrical rewiring in common areas
Maintenance to preserve the infrastructure's integrity
Additional safety features needed
Understanding all the costs associated with setting up residential EV charging points will be key for successful budgeting. It will also help ensure residential charging points are profitable, while being accessible to all EV drivers in a complex.
Step 5: Train Users and Offer Support
Finally, RWAs should offer user training and support for new EV owners in their area. Below are some ideas to include in any training sessions:
Instructions on how to use the charging stations
Overview of the different types of charging connectors and charging speeds
Rundown of the costs involved in EV charging
Troubleshooting resources to address common issues
Ensuring everyone in the complex is fully aware of how to use the newly-set residential EV charging stations will reduce the chance of accidents. When the charging experience is safer, usage will likely increase, thereby encouraging further EV adoption.
Below we take a look at how two companies have helped RWAs implement the above suggestions and break down the barriers to residential EV charging.
Case Studies: Solutions that Help RWAs Implement Residential EV Charging
The case studies of residential EV charging implementation show how EV OS developers and charging providers have created offerings with RWAs in mind. This is all in an effort to help RWAs make residential EV charging a reality within their societies.
1. EZ Charge: Enhancing Residents' Support
Tata Power noticed how much installation costs impeded RWAs from setting up residential EV charging stations. So they built their EZ Charge solution with that in mind. The EZ Charge is compatible with different EVs available in India today, reducing installation costs for RWAs.
Tata Power also included other features on its app, like remote charging and seamless payments. These features help RWAs gain greater resident support and explore funding options on an individual-community level. With this initiative by Tata Power, RWAs can now increase their revenue potential from their residential EV charging ecosystem.
2. BOLT LITE: Making Residential EV Charging Safe and Affordable for RWAs
Bolt.Earth is on a path to help boost India's EV adoption through its smart, connected ecosystem. One way to make this ecosystem widely available is to help RWAs overcome the obstacles that prevent them from implementing charging stations for their residents. Most notably, Bolt.Earth's BOLT Lite charging point focuses on safety and affordability.
RWAs can boost charging point safety with BOLT Lite's built-in protection against power surges, high temperatures, and voltage fluctuations. These charging points also include an automatic power cut-off feature, which can reduce pressure on the electricity grid. Finally, the BOLT Lite charging point can reduce installation costs for RWAs because it's universally compatible with all EVs.
Companies that continue to prioritize safety, affordability, and availability will certainly help RWAs overcome the challenges that keep them from installing residential EV charging infrastructure. They will be key players in helping RWAs adopt the best practices for residential EV charging installation.
How Residential EV Charging Ecosystems Will Shape the Future of EVs
The need for residential EV charging infrastructure is becoming more pressing as India prepares for a significant increase in EVs on the roads.
While challenges like space constraints and lack of awareness remain an issue, RWAs and residential community members can leverage several best practices to successfully achieve EV charging ecosystems in their communities.
By creating awareness campaigns, leveraging government policies and incentives, and collaborating with key stakeholders, RWAs can provide convenient EV charging ecosystems for their residents while also creating an alternative revenue stream.
Adopting these best practices can contribute to a more sustainable future and help India meet its charging station targets for 2030.
Installing residential EV charging stations isn't just an opportunity to benefit EV owners and add value to the housing society — it can also help encourage more people to adopt EVs as the more convenient choice. Over time, the effects can ripple throughout the country, leading to the wide-scale adoption of green mobility.
In part 2 of this series, we explain how RWAs, small business owners, and individual EV drivers can use the single window process to overcome some of the challenges of setting up EV charging stations.
To learn more about residential EV charging, please see the FAQ and Resources sections below.
FAQ
What are the benefits of residential EV charging, and how can they help me save money while reducing my carbon footprint?
Charging at home is convenient as it helps you avoid public charging stations and lets you take advantage of off-peak electricity rates. Using clean energy sources like solar or wind to power residential chargers can significantly lower your emissions while charging at night can reduce the strain on the electrical grid.
What EV chargers are available for residential installation in India?
You can currently opt for one of two residential charging points in India: slow trickle chargers and residential fast chargers. Slow chargers use a standard 120V outlet and take up to 20 hours to fully charge an EV. On the other hand, residential fast chargers can use a 240V outlet and can charge an EV in 4 to 8 hours.
How much does installing a residential EV charging station typically cost, and can any rebates or incentives offset the cost?
In India, installing a residential EV charging station can cost anywhere from Rs 100,000 to Rs 5,000,000. However, the government's FAME scheme offers a subsidy of up to 15% of the cost of the charging station or a maximum of Rs 6,000. Some state governments and private companies also offer additional incentives like reduced electricity tariffs.
Can I install a residential EV charging station myself, or do I need to hire a professional electrician?
In India, hiring a professional electrician to install a residential EV charging station is mandatory in some states and highly recommended in others due to the electrical expertise required. Additionally, residential EV charger manufacturers prefer their in-house licensed electricians to install charging stations for greater safety.
How can I ensure my home's electrical system is compatible with a new EV charging station, and what electrical upgrades might be necessary?
Hire a licensed electrician to assess your electrical system. They will let you know whether the charging station is compatible with your grid. If not, you may need rewiring or dedicated circuits.
What safety concerns should I be aware of when installing and using a residential EV charging station?
When installing and using a residential EV charger, ensure safety compliance and a licensed electrician's assistance. Check the charging cable and plug for damage, clear the area of hazards, and follow the manufacturer's instructions. Stop using the charging station and contact a licensed electrician if any issues arise.
Resources
Bolt.Earth: Official Website
Get to know BOLT's products and services on our official website.
Niti Aayog: Electric Vehicle Charging Infrastructure Implementation
Discover insightful takeaways on creating EV charging infrastructure from NITI Ayog.
MOHUA: Building Laws for EV Charging Infrastructure
Know the guidelines and bylaws for installing residential EV charging infrastructure.
Bolt.Earth: Discover BOLT OS
Learn more about our BOLT OS solution.
Delhi Government: Residential EV Charging Guidebook
Know the planning guidelines for installing and using residential EV charging in New Delhi.
---
Table of Contents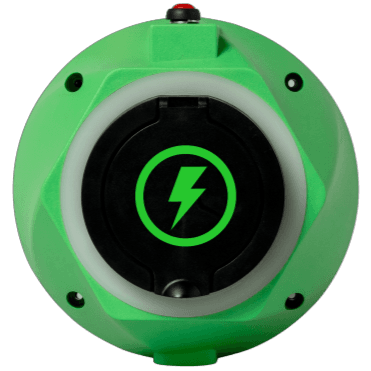 Bolt.Earth Lite
Level 1 Compact EV Charging Station
More from our blog
Subscribe to our Newsletter